| | |
| --- | --- |
| ToraTora | 08-29-2012 11:15 PM |
---
Ride Like an Egyptian Saturday September 22nd

1 Attachment(s)
This ride has been canceled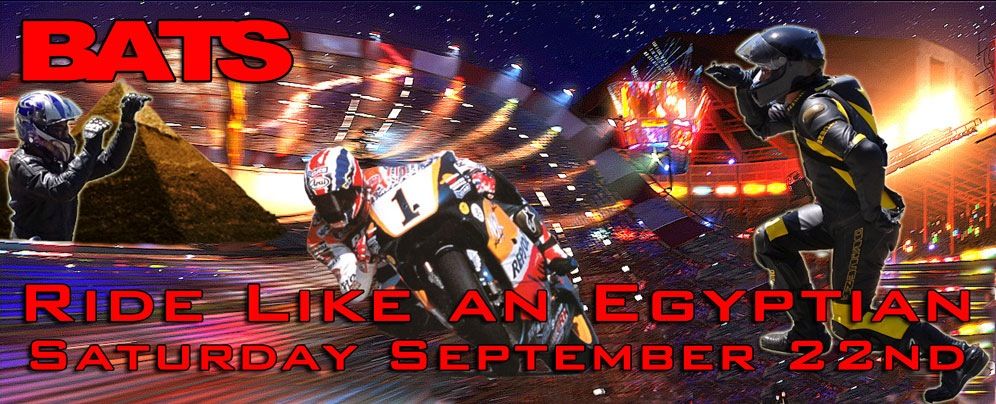 :bat2
| | |
| --- | --- |
| ToraTora | 09-02-2012 02:05 PM |
---
Ride Like an Egyptian

All the old paintings on the tomb
They do the sand dance doncha know
If they move too quick (oh whey oh)
They're falling down like a domino

And the bazaar man by the Nile
He got the money on a bet
All the crocodiles (oh whey oh)
They snap their teeth on your cigarette

Foreign types with the hookah pipes say
Ay oh whey oh, ay oh whey oh
Ride like an Egyptian

The blonde waitresses take their trays
They spin around and they cross the floor
They've got the moves (oh whey oh)
You drop your drink then they bring you more

All the school kids so sick of books
They like the punk and the metal band
When the buzzer rings (oh whey oh)
They're riding like an Egyptian

All the kids in the marketplace say
Ay oh whey oh, ay oh whey oh
Ride like an Egyptian


Slide feet up street bend your back
Shift your arm then you pull it back
Life['s] hard you know (oh whey oh)
So strike a pose on a Cadillac

If you want to find all the cops
They're hanging out in the donut shop
They sing and dance (oh whey oh)
They spin the club, cruise down the block

All the Japanese with their yen
The party boys call the Kremlin
And the Chinese know (oh whey oh)
They Ride the line like Egyptian

All the cops in the donut shop say
Ay oh whey oh, ay oh whey oh
Ride like an Egyptian
Ride like an Egyptian

:bat2
| | |
| --- | --- |
| ToraTora | 09-02-2012 02:54 PM |
---
Ride Like an Egyptian

| | |
| --- | --- |
| gxmazz | 09-20-2012 12:30 PM |
---
turnout

any word on the turnout for the ride on saturday...i have so much homework but dyin to ride!
| | |
| --- | --- |
| Jonas | 09-21-2012 10:52 PM |
---
Lame

Been looking forward to this ride for a month. Must've been a serious reason to cancel. I hope everyone's okay.
I paid for a babysitter for my daughter and tuned up my '77 RD rocket so if anyone is up for a ride please hit me up
jonashartley@gmail.com
.
| | |
| --- | --- |
| ToraTora | 09-23-2012 03:07 PM |
---
Apologies

Hey Jonas,
Sorry--I was unable to lead the ride this month due to some extenuating circumstances, and with Greg's bike down, my blue bike in limbo (which Paz or Owen might have been able to ride), and AJ down south for the TSE we didn't have anyone to sub as ride leader.
If you are interested in a ride a whole month in advanced please post so in the thread. That helps build excitement, and lets people know that someone other than just the core group are interested.
Again, apologies.
:bat2
All times are GMT -7. The time now is

09:28 PM

.
Powered by vBulletin® Version 3.6.8
Copyright ©2000 - 2019, Jelsoft Enterprises Ltd.

Ad Management by RedTyger